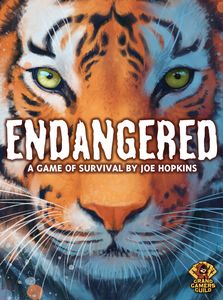 Richard is joined by Joe Hopkins who is currently working with The Grand Gamers Guild on his Kickstarter campaign for his up and coming project, Endangered. 
So naturally we spend a bunch of time talking about the fact Joe is actually a Magician, how he got into the hobby and finally chat about his project. Joe is an absolute delight to have on the show and we hope you get a change to check out his campaign. 
LINKS OF NOTES
https://twitter.com/grndgmrsgld
https://twitter.com/avgjoegames
https://boardgamegeek.com/boardgame/220133/endangered
+++++++++++++++++++++++++++++++++++++++++++++++++++
If you like what you have heard, please take some time to Rate, Subscribe and Review us on APPLE PODCASTS.
https://itunes.apple.com/gb/podcast/were-not-wizards/id1084198405  DROP US A REVIEW HERE.. DON'T GIVE US 10 STARS
SUPPORT THE SHOW WITH $£ www.patreon.com/werenotwizards
YOUTUBE - PLEASE SUBSCRIBE https://www.youtube.com/c/WereNotWizardsTabletopPodcast
Board Game Geek - https://www.boardgamegeek.com/boardgamepodcast/35093/were-not-wizards
Website - www.werenotwizards.com
Blog https://werenotwizards.blogspot.com
Facebook - http://www.facebook.com/werenotwizards
Twitter.com - http://www.twitter.com/werenotwizards
Check out our pictures - www.instagram.com/werenotwizards
THANK YOU FOR LISTENING AND YOUR CONTINUAL SUPPORT